🌟 The availability of features depends on your subscription plan.
If you are on the SKYFLD Basic Plan, you have limited access to the Feed. You can not see information about your teammates' actions. Learn more about the benefits of the SKYFLD Pro Plan and unlock all features.
In the Feed, you see all of the most important farm events. It helps you to keep track of all operations, vitality changes, and updates that may require your decisions or actions.
In the Feed, you can see the following events concerning the farm you are currently displaying:
Biomass vitality alerts - when the vitality dropped or increased by more than 20%

Scouting notes - when new scouting notes were added

Tasks - when new tasks were added or marked as done

Field status changes - when the field status was changed or set

New fields - when the new field was created

New team members - when a new team member joined your farm

Other - for example, Welcome message and other notes from the SKYFLD team
Besides the topic, you can see the details specific to each event type: field name, crop type & symbol, field size, note or task creator, and the exact date and time of a given event.
The information in the Feed is listed in chronological order, from the latest on the top. To access previous events, scroll down.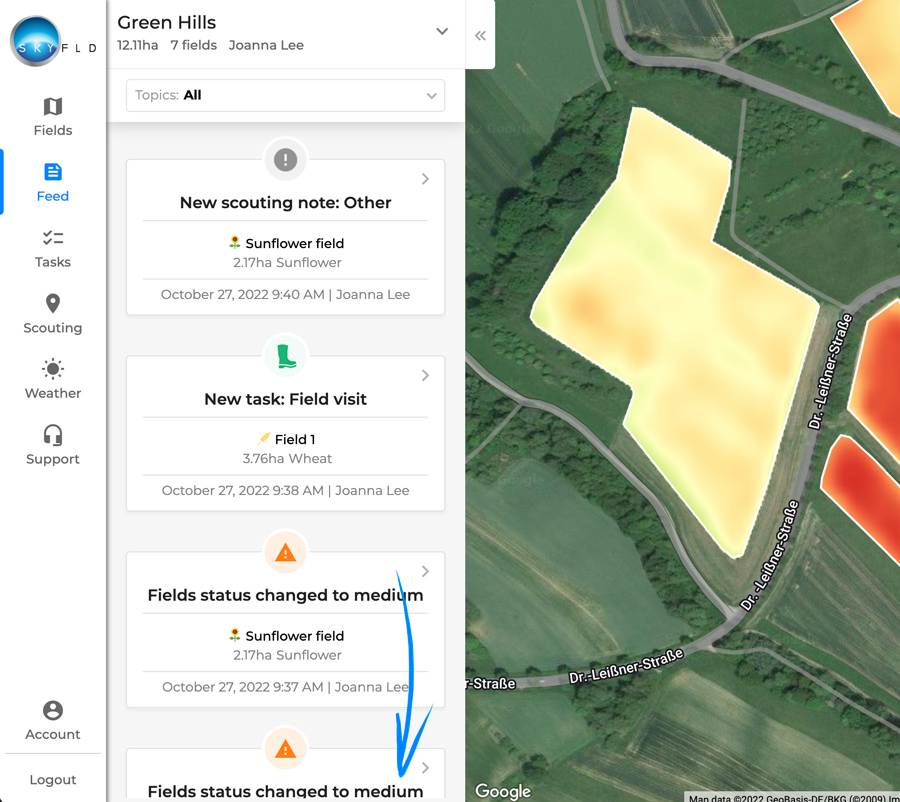 If you want to learn more, read the article: How to use the Feed?