While browsing through the fields or creating new seeding, fertilisation, or crop protection maps in SKYFLD, you can use the split screen mode that allows you to compare the views and analyze the visual information. Thanks to this feature, you can also observe how biomass changes in different parts of the field, so you can identify different zones that indicate soil quality or water holding capacity. A split screen is also great for detecting crop damage, as the new vitality maps appear every couple of days.
The frequency with which new maps appear depends on the location of your farm. The images are taken from the Sentinel-2 satellite - its orbital time varies for different latitudes; that is why new images of your field will appear every 2 to 5 days. The frequency also depends on the cloud cover. You can learn more about how the images are generated in this article.
Field overview
To see two different views of your field, go to the field details and click the Split Screen button at the top right corner. Now, from the right column, you can choose the map that you want to compare with the view from the left side of the screen.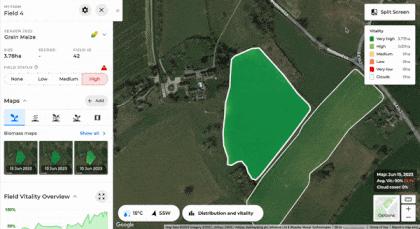 Creating an application map
The Split screen feature is also available when creating application maps. It may be especially helpful for repainting zones, excluding some areas, or making sure that tramlines orientation is correct.
Click on the Split Screen button and select the map you want to compare. For better visibility, hide map creation details.
You can zoom in and zoom out the view. To close Split screen mode, click the close button at the top right corner.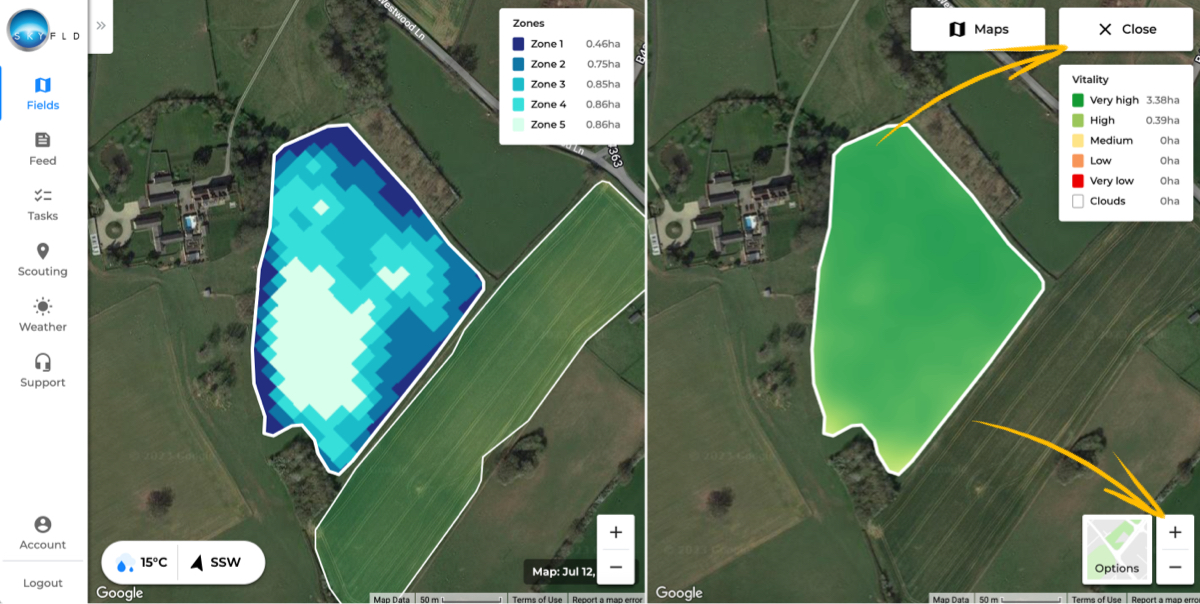 You can also use different map displays while using Split mode. To learn more, read the following article: How to change map display.