To add a new single grain seed drill, open your farm and click the Machinery button at the upper right corner. Next, click the + Add new machinery. As the window opens, choose Single grain from the list. Select a manufacturer or add a custom one.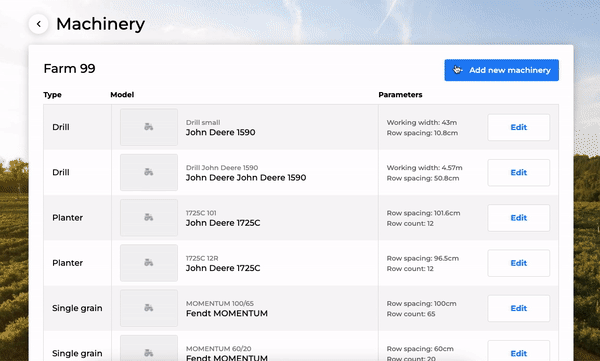 Do I have to share the information about the manufacturer and the model?
No, you don't. Although it might make it easier for you to find the machine on your equipment list, sharing that information is optional. If you don't want to do it, you can choose the "Custom" manufacturer and enter any model name.
However, to create a precise seeding or fertilization map that will be compatible with your equipment, you need to fill in the machine's specifications (for example, its working width or the number and spacing of rows).
After choosing the manufacturer, additional fields will appear in the window:
Enter the model name

Define working width in meters and row spacing in centimetres
Based on the information you enter, the application maps will be adjusted to the properties of your machinery. The pixel size on the map reflects the working width of your machinery.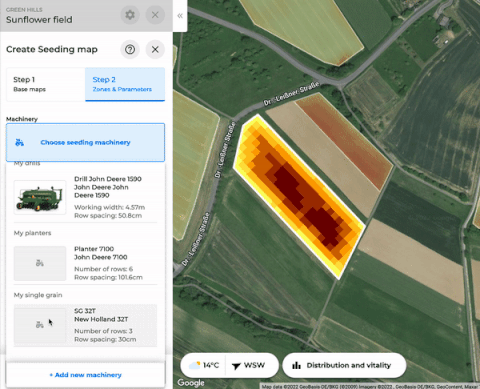 Add a custom machinery name to easily find it on the list

You can also upload the image in the following formats:

jpg, jpeg, png, gif.
Now, you will be able to choose the Single grain seed drill from the list while creating application maps.
You can also add machinery while creating an application map. After you select base maps, zoning and define other details dependent on the map type, you will see a button Choose machinery. Click on it to open the list of already added equipment. After opening the list, click on +Add new machinery.
The dialogue window allows you to fill in all the details without interrupting the map creation process.