The first step of application map creation in SKYFLD® is choosing base maps. While creating a seeding map you can choose up to 10 different items. You can select biomass maps and uploaded soil and yield maps. They will be stacked on top of each other. Data from the maps you choose serves as a basis for the creation of a precise seeding map that will help you to maximize the harvest.
The list of selected base maps is displayed in the order reflecting your choice. By default, SKYFLD® draws and processes data from each map equally. For example: if you have chosen 4 base maps, each one contributes to the final application map in 25%.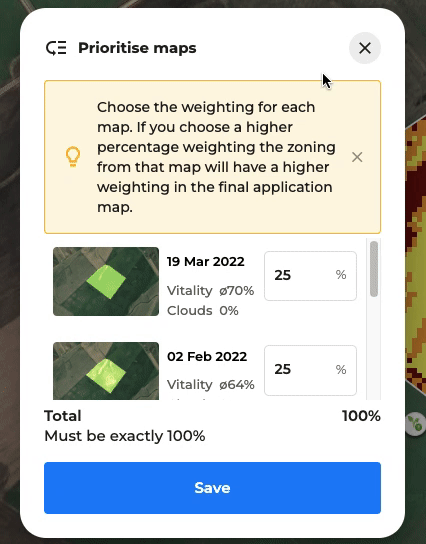 To change the proportion and assign different weights to each one from the base maps, click on Prioritise maps button. Once the window opens, you can change the percentage assigned to each map. The sum has to be 100%. At the bottom of the window, you will see if the proportion you set up is correct.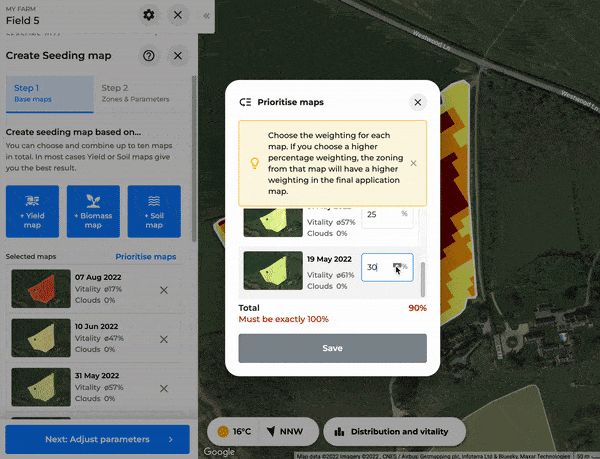 All changes you apply are immediately reflected on the preview. Once you are satisfied with the outcome, click save and follow the further steps of seeding map creation.
Tip: You can remove base maps from the stacking list by clicking on the

icon.