SKYFLD® is the only application on the market that adjusts the pixel orientation of the maps based on the tramlines you set up. This helps you to create more realistic zoning for your variable application maps. The amount of seeds, fertilizers, or other substances can be applied with better precision when you adjust the tram line before creating a variable application map. Additionally, setting up tramlines minimize the damage of soil and plants caused by machinery you use on fields. Setting up the paths on an area dedicated to planters, sprayers, and other machines leads to significant benefits, starting from reduced fuel use to improved crop yields.

In SKYFLD®, you set up tramlines orientation while Creating a field or Creating an application map.
While creating a field
Setting up the tramlines orientation is the second step of adding a new field to your farm.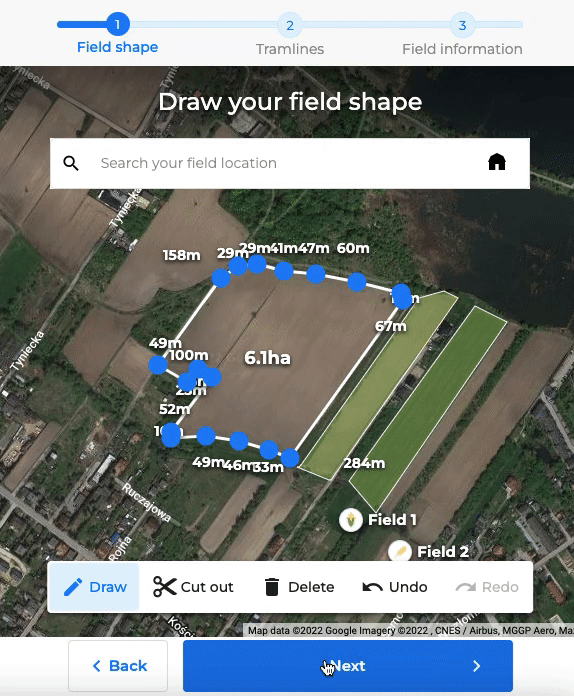 If you haven't disabled the onboarding tips, you will see the detailed instructions in the application.
Click on the blue circle and move it to set up the orientation. On the preview, you see the angle changing. The tramlines' orientation ranges from -90 to 90 degrees. Once set up, click the Next button.

You can always change tramlines orientation in the field settings. Click on the settings icon next to the field name, and go to Edit tramlines.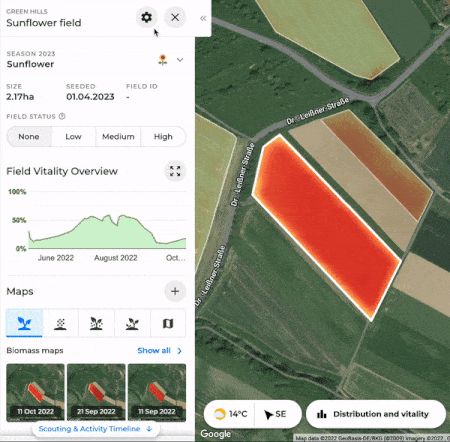 While creating a Seeding, Fertilisation, or Crop protection map
Regardless of the tramlines orientation you have established for a given field during the creation process, you can change or hide them while creating a specific application map for that area.

After you choose the map type, Step 1 allows you to apply changes. Once you set up a new orientation, proceed with filling in other details.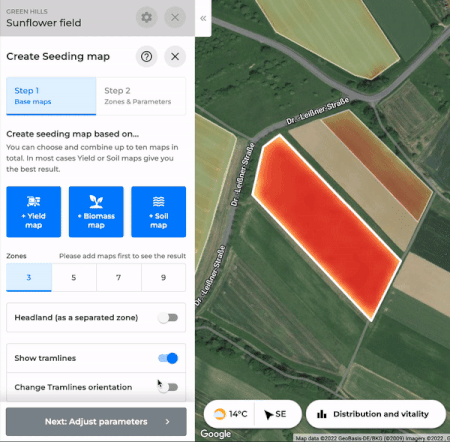 Tip: While setting up the tramlines, you can change the map display to see the details of the land. Click on the Options button at the bottom right corner, choose Satelite Map type, and Boundaries only Map details.