🌟 The availability of features depends on your subscription plan.
If you are on the SKYFLD Basic Plan, you have limited access to the weather panel. You see only the Today tab, without history and rain gauge. Learn more about the benefits of the SKYFLD Pro Plan and unlock all features.
Depending on your needs, you can access two types of weather-related information in SKYFLD:
Use both types to plan your field works!
How to access the forecast summary
1. On the fields list, you can see the current temperature and the icon representing weather conditions on each one of your fields.
2. Click on the selected field. At the bottom of the map, you will see the temperature and wind direction. Click the element to get more information.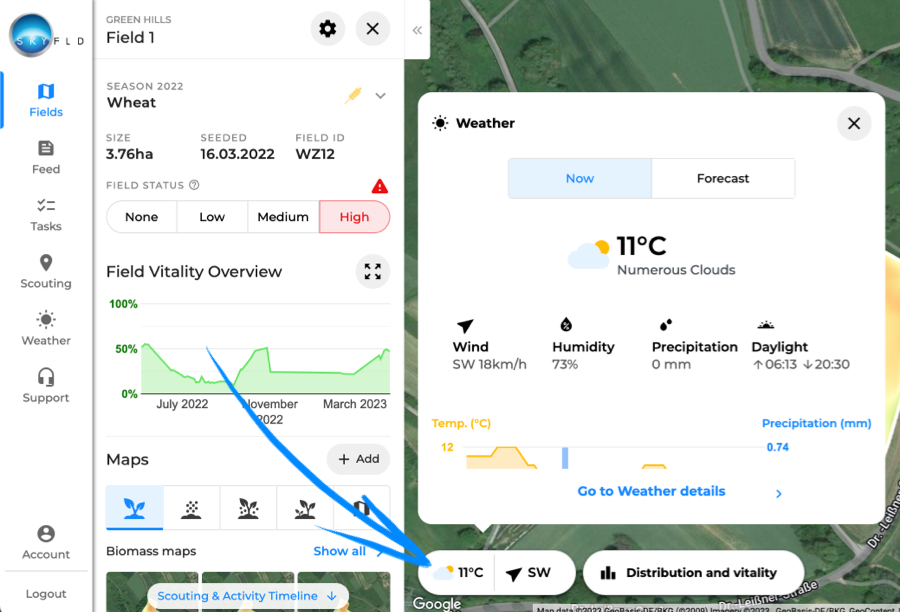 3. Here, you can switch between Now (current weather status) and Forecast for the selected area. The Now tab contains the following information:
Wind direction & speed
Humidity level
Precipitation
Sunrise and sunset time
Temperature & precipitation graph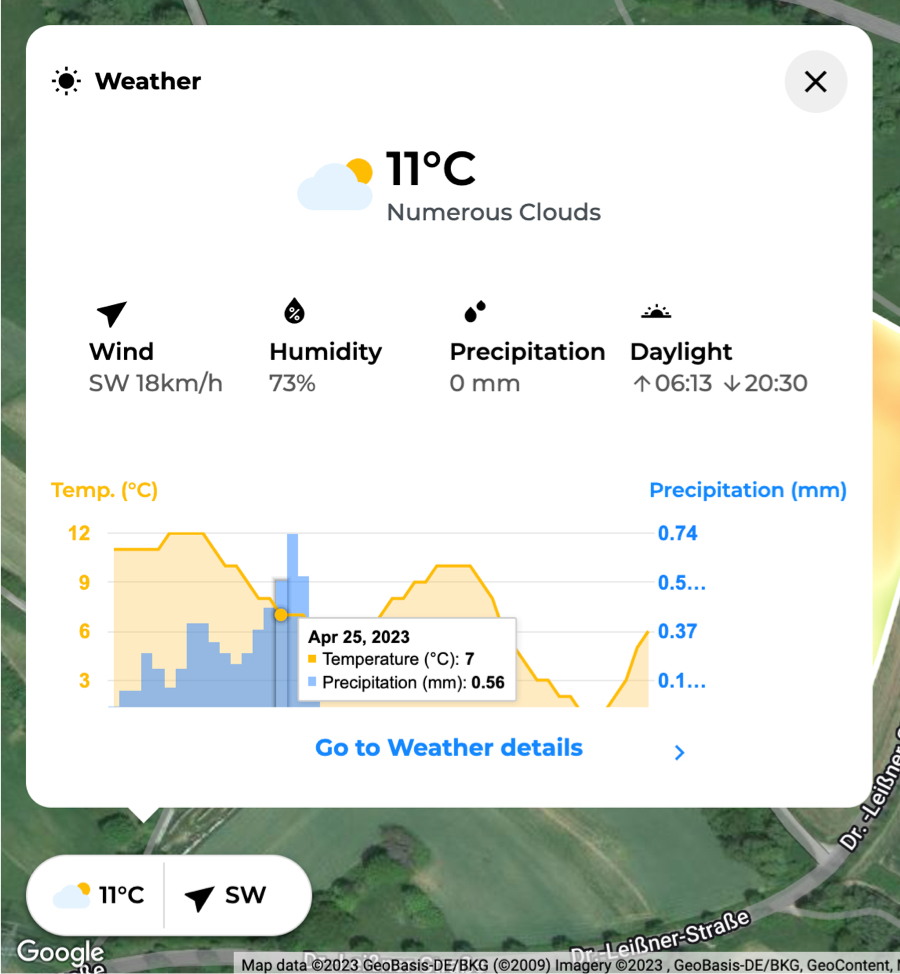 In the Forecast tab, you can check:
The forecast for 5 days
Max & min temperatures
Wind speed & direction
Precipitation
Humidity level
Sunrise and sunset time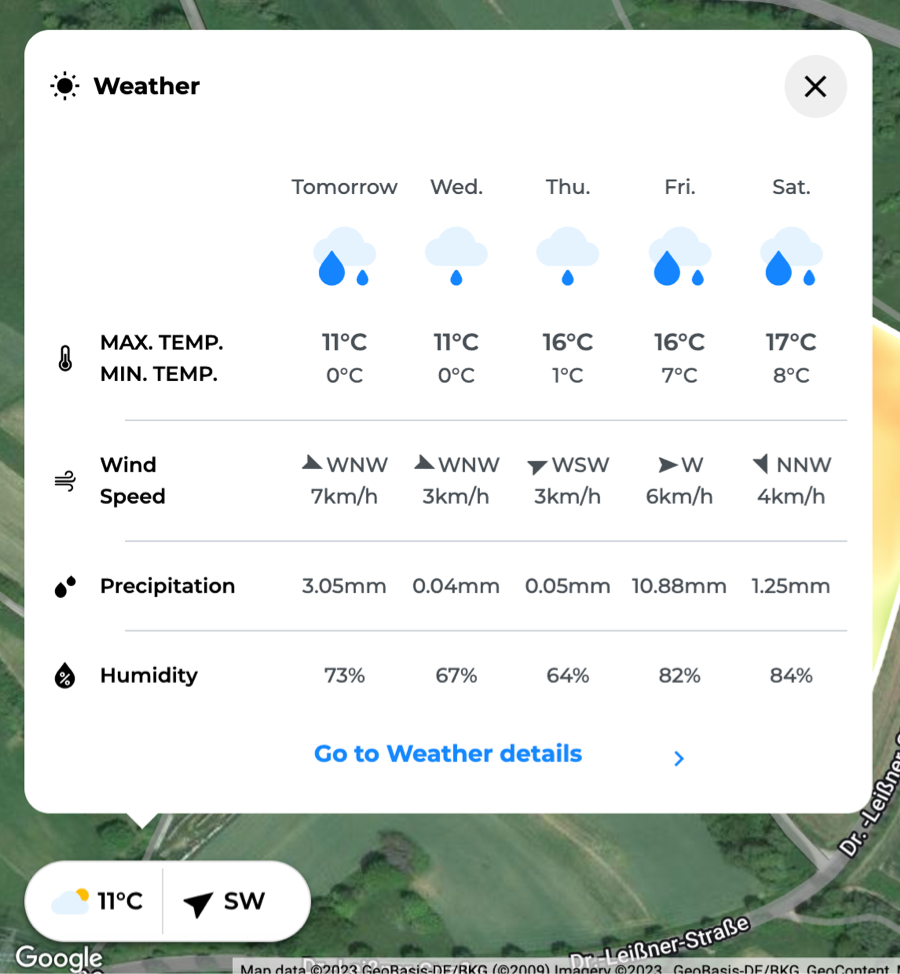 If you need more details, click Go to Weather details at the bottom of the Weather pop-up.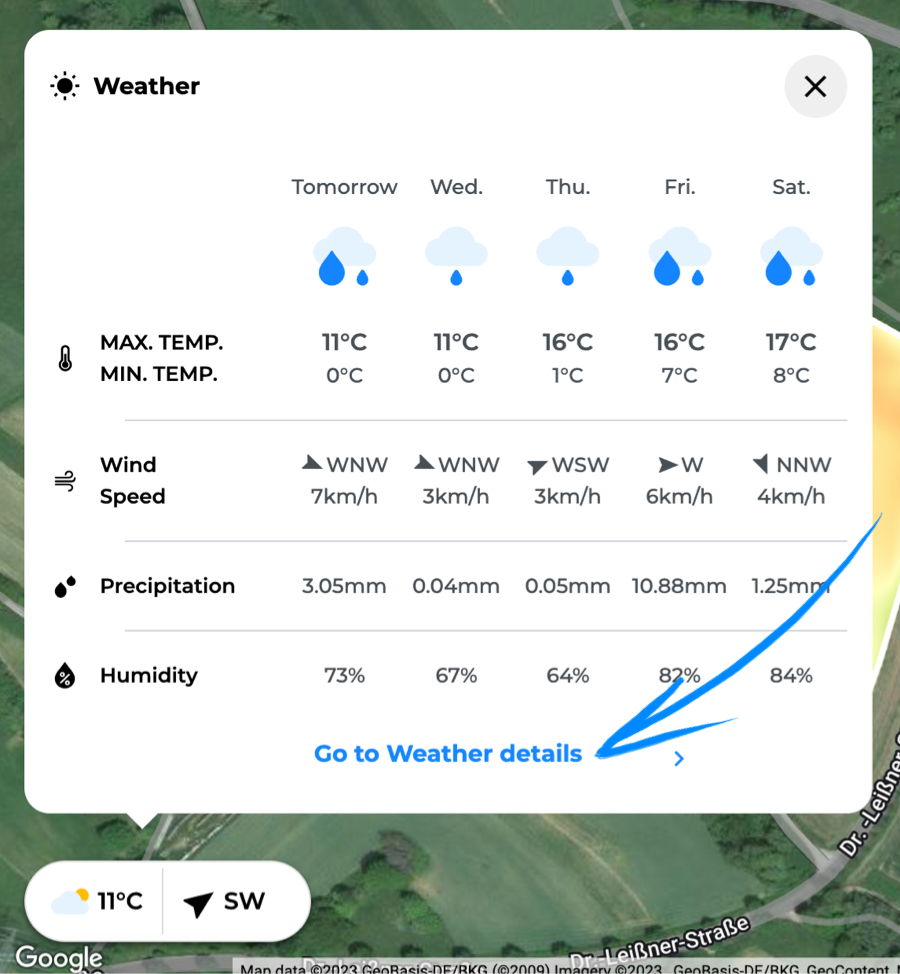 4. To close the pop-up, click

.
How to access detailed weather information
1. Click the Weather icon on the left-hand side of your screen.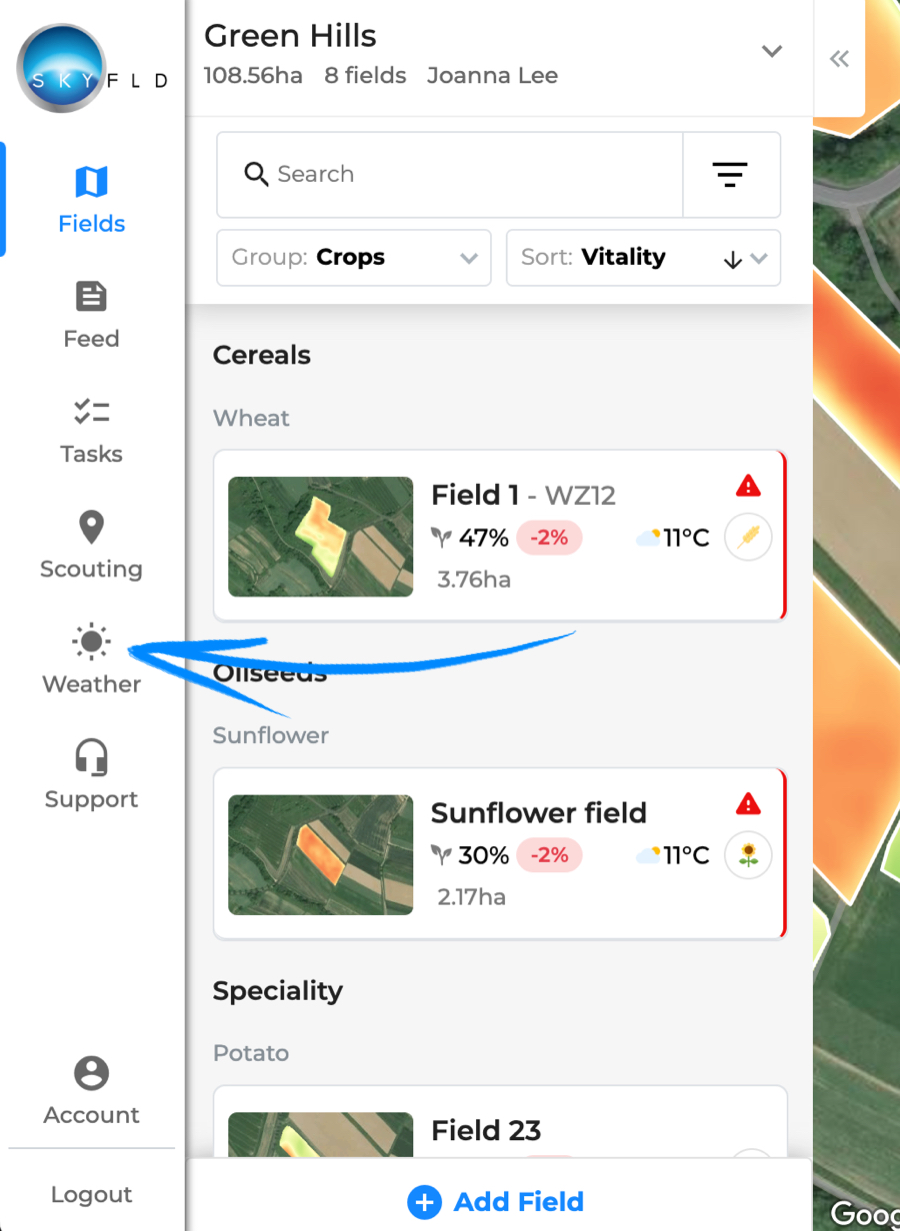 2. Now, you see the weather panel. By default, it shows information concerning the current day, followed by the table with the hourly forecast. In the table, you can check:
Temperature
Cloud coverage
Precipitation
Humidity level
Wind speed & direction
Dew point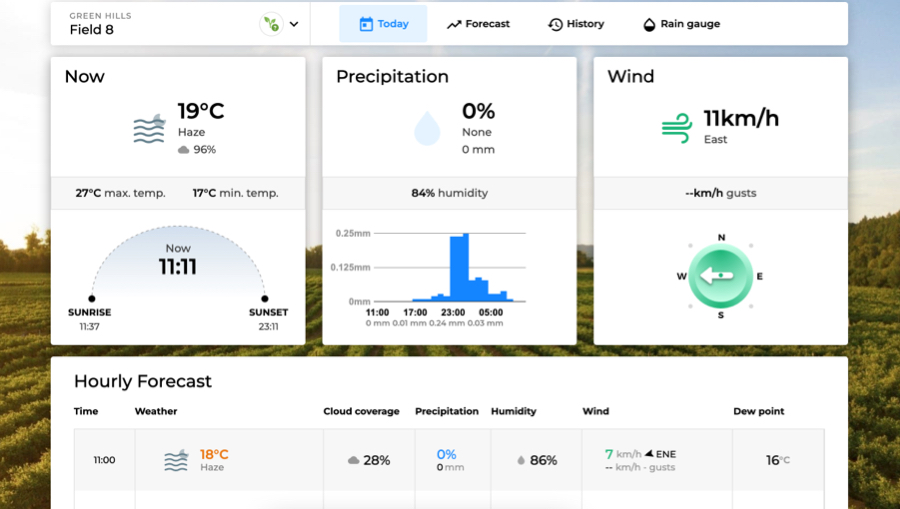 3. You can display detailed weather information for each field you have access to. Click the field name to open the list of fields on a selected farm.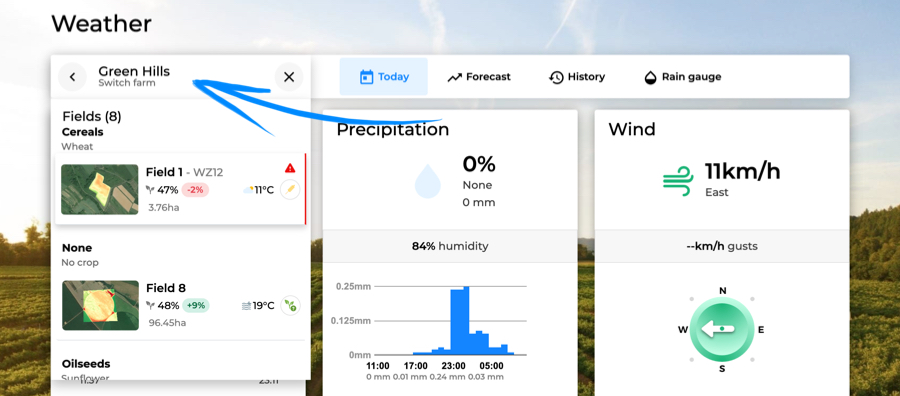 If you want to switch to another farm, click the

icon and select it from the list.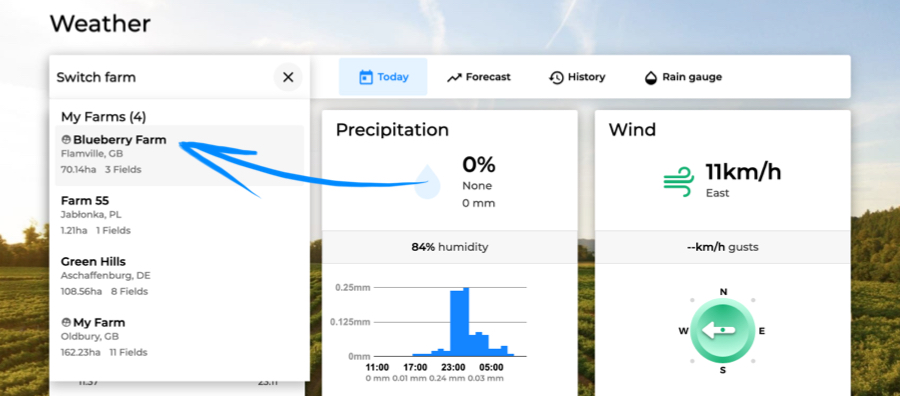 4. To check the forecast for 7 days, click the Forecast button at the top of the Weather panel.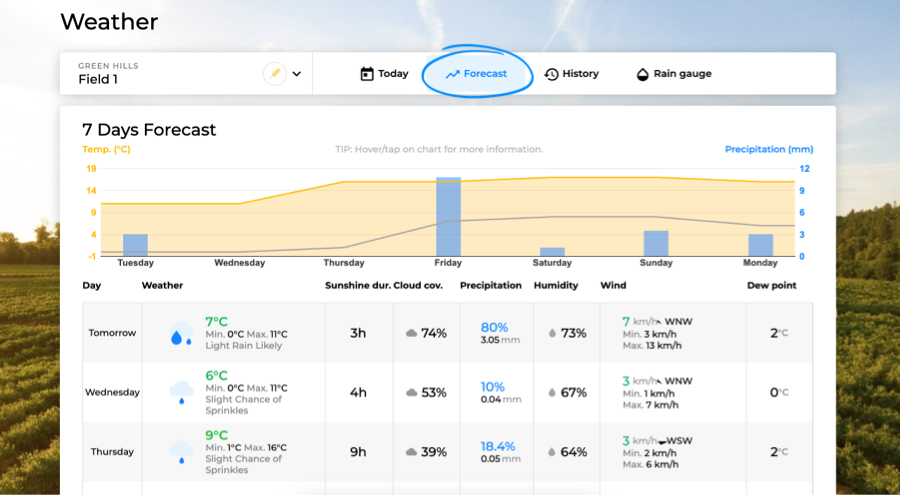 Hover over the chart to display exact values for a given day.

Below the chart, you can check:
Temperature
Sunshine duration
Cloud coverage
Precipitation
Humidity level
Wind direction & speed (min. and max.)
Dew point
5. In the History section, you can check the readings for the past. You can switch between predefined periods and compare the graphs.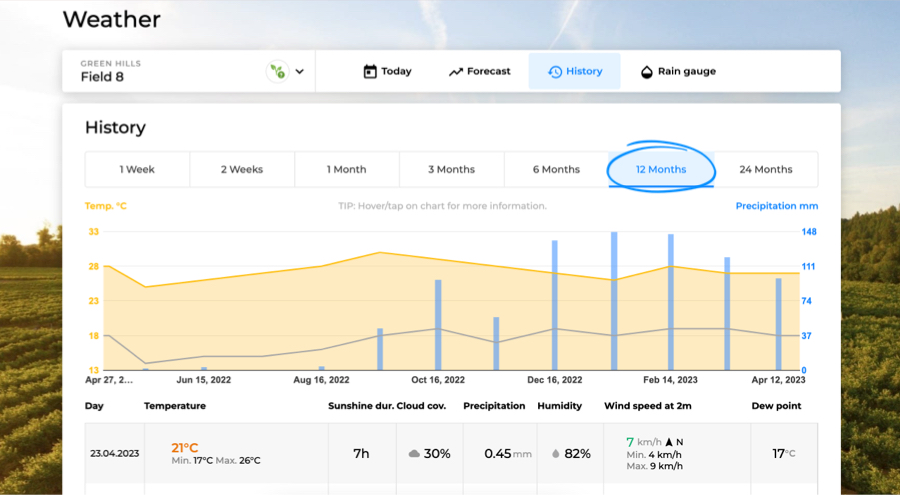 In the table below the graph, you will find the exact values for each day.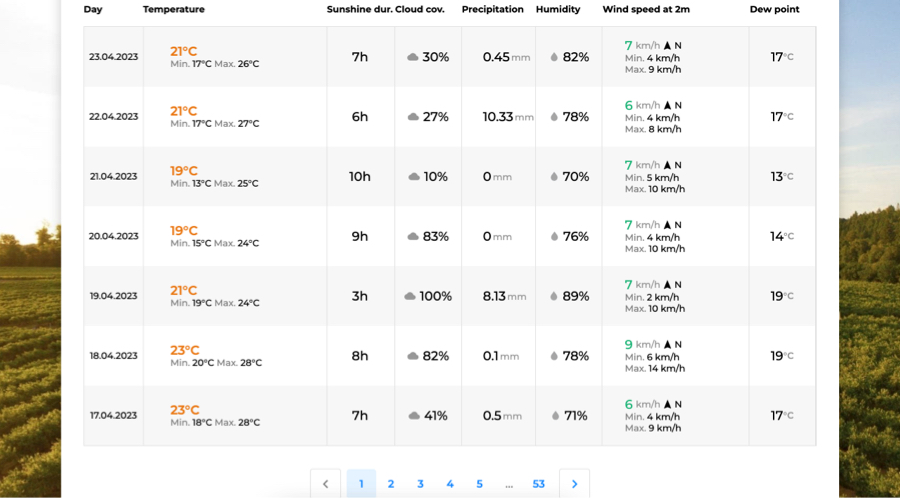 6. Go to the Rain Gauge if you want to check the amount of rain that fell on your field in a given period. At the top of this section, you can see the summary for:
Last hour
Last 24 hours
Last 7 days
Last 30 days
Last 90 days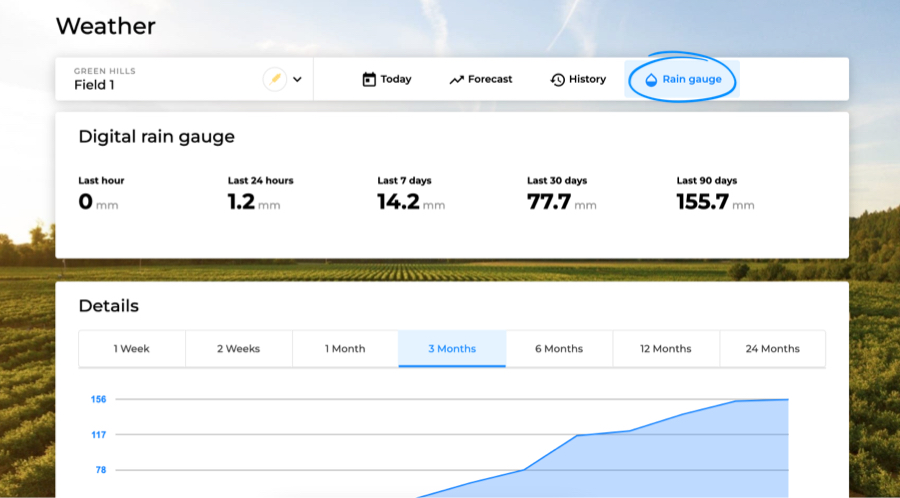 Below the summary, you can see the graph illustrating data for longer periods. On hover, you can see the exact value for a given day.