What is vitality?
To put it simply, vitality represents the overall state and health of your crops. It is exceptionally useful for monitoring the growth process, the condition of your plants, and for predicting the crop yield. You can see how biomass vitality changes across different areas of your field by looking at a biomass map.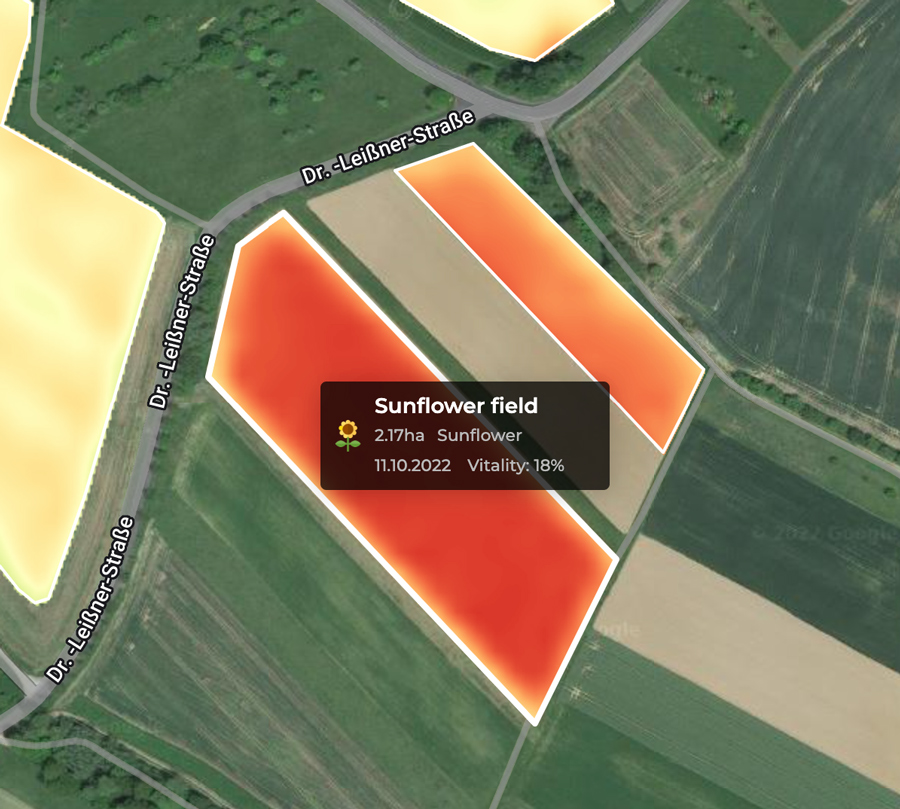 How is biomass vitality calculated?
Vitality is based on the NDVI - or the Normalized Difference Vegetation Index. First, by using a satellite sensor, we gather information about how your crops reflect different bands of light. Then our software analyses that data to detect the presence of live vegetation - and measure its state and health. The vitality values can range from -100% to 100%.
How does the NDVI work?
NDVI is calculated based on the plants' spectral reflectance across different light bands - or, to put it simply, on how your crops reflect light.
When light reaches your crops, some of its frequencies are reflected and some are absorbed. The exact values depend strongly on the amount of chlorophyll in the plant. The chlorophyll pigment absorbs most of the visible red light, while the cell structure of the leaves reflects most of the near-infrared light.
If the plant is healthy and its photosynthetic activity is high (in other words - the leaves have plenty of chlorophyll), it reflects more near-infrared light and less visible red light. If the crop is sick or struck by a drought, the leaf structure changes and the plant begins to reflect less near-infrared light.
NDVI is calculated with a simple formula: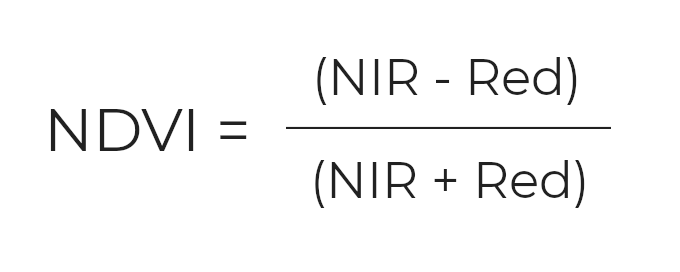 where Red is the reflected visible red light and NIR is the reflected near-infrared light.
What do different vitality values mean?
To put it shortly, vitality represents the health of your crops. Its values can range from -100% to 100%.

Overall, the vitality value for a healthy plant should range between 33% to 100% - and during the growth period, that value tends to increase rapidly. Remember, however, that these values are not set in stone, and there are many factors that can affect the vitality of your crops. For example:
season

crop type

climate

type of soil

agricultural practices.
To determine what biomass vitality values are standard for your farm and crops, you can analyze the biomass maps from previous years.
Negative values, from -100% to 0, usually represent:
clouds

fog

snow

water

structures or inanimate objects.



To ensure that weather conditions (for example clouds or fog) don't negatively affect the NDVI measures and give you false vitality data, SKYFLD® will not create a new biomass map if the average vitality of your field is below 5%. You can read more about it in this article.
My field has not been seeded yet. Shouldn't it have 0% biomass vitality?
Because of how much red and near-infrared light it reflects, bare soil usually generates the vitality of 10-20%. This value may vary depending on the soil type.
What satellite imagery does SKYFLD® use?
We use imagery from the Sentinel-2 satellite, which is a part of the European Space Agency's space program.