Subscription plans are available only in Germany 🇩🇪. Coming soon in other regions!
As you register to SKYFLD, you automatically start from the free trial. It means you have access to all SKYFLD Pro features. We give you this opportunity to test the platform and check how SKYFLD can bring a positive change to your farm.
No credit card is required.
After the free trial, your subscription automatically changes to the free SKYFLD Basic Plan.
The duration of the free trial may vary for each region. You will be notified 7 days before the trial expiration.
Read the article to learn more about available plans & pricing.
Only a farm owner can manage a subscription.
Subscriptions are connected to the farms created by a farm owner. If you are a user invited to the farm, you don't have to buy a subscription - your access depends on the plan the farm owner selected.
How to check my subscription status?
1. Log in and go to the account section. Click the

icon.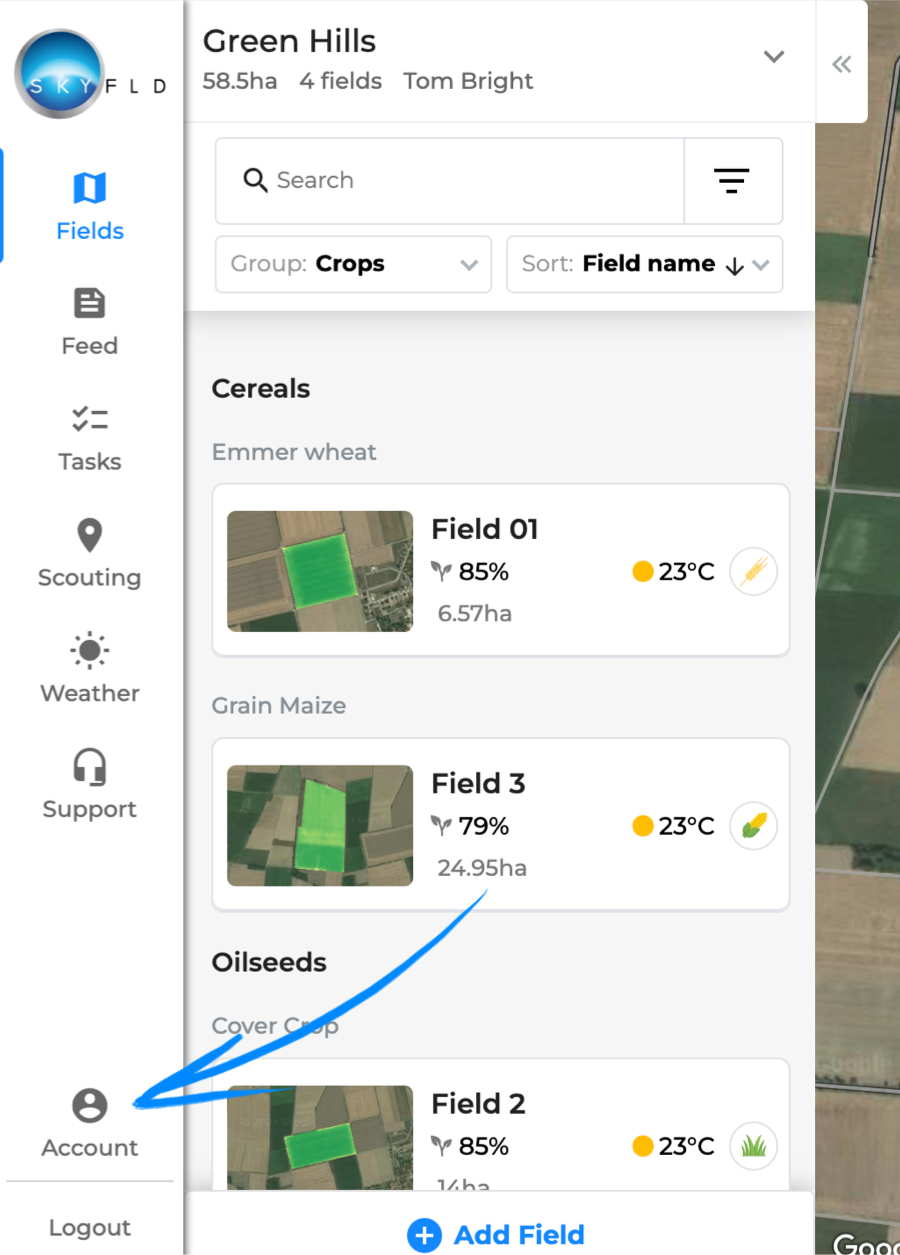 2. Click Subscription & Billing. In this tab, you see information about your current plan (Trial, SKYFLD Basic, or SKYFLD Pro), and you can upgrade or downgrade your subscription.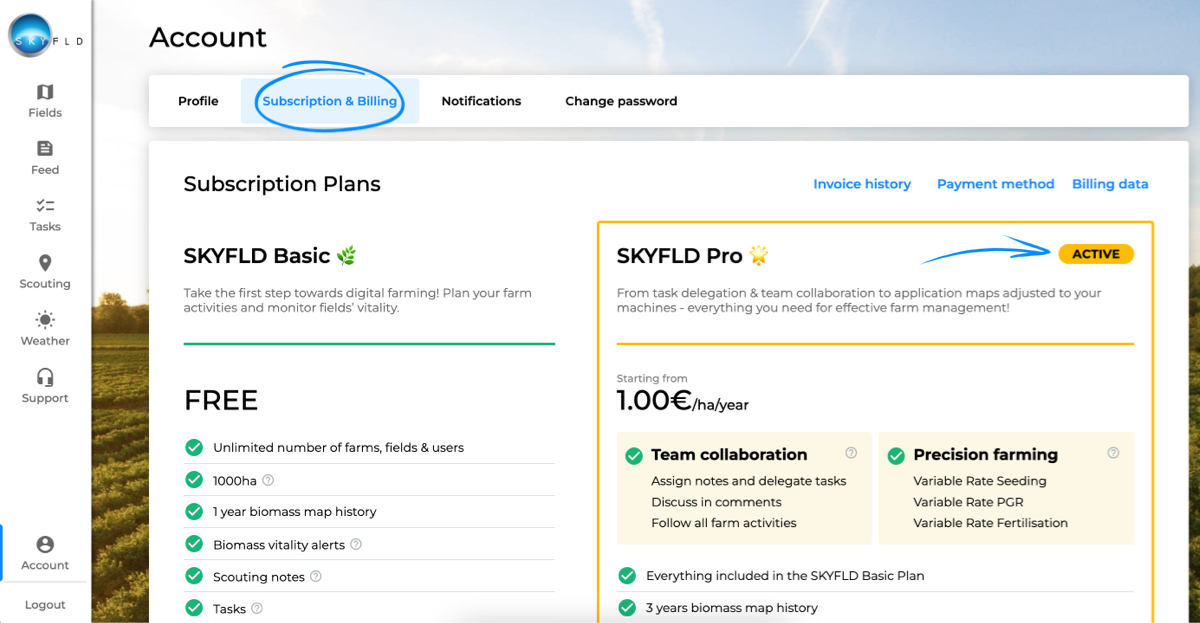 SKYFLD Basic Plan vs. SKYFLD Pro Plan
Features
SKYFLD Basic Plan
SKYFLD Pro Plan
Price
Free

Paid per hectare

Log in to your account and go to the Subscription & Billing tab to see the prices in your currency. Use the interactive calculator to see the total cost for your farm.

Hectare limit
1000
unlimited (1000 on trial)
Farms
unlimited
unlimited
Fields per farm
unlimited
unlimited
Users
unlimited
unlimited
Notifications (Push/E-mail)

✅

only new biomass maps, vitality alerts, and Plantix recognitions

✅

new biomass maps, vitality alerts, Plantix recognitions, Task & Scouting Notes

Field creation
✅
✅
Field upload (KML/SHP)
✅
✅
Biomass maps history
1-year
3-years
Biomass alerts
✅
✅
Variable Rate maps creation (fertilisation, seeding, crop protection)
❌
✅
Export (Variable Rate maps)
❌
unlimited (3 exports on trial)
Export of maps to PDF
❌
unlimited
Upload of soil & yield maps
❌
✅
Filters
❌
✅
Plant Health Check powered by Plantix
✅
✅
CropX integration
✅
✅
CropX disease risk
❌
✅
CropX spraying conditions
❌
✅
Weather Basic (now/today)
✅
✅
Weather Pro (forecast + history)
❌
✅
Scouting notes
✅
✅
Scouting notes comments
❌
✅
Assigning scouting notes
❌
✅
Creating tasks from scouting notes
✅
✅
Activities Feed

✅

Only activities of the account owner

✅

Activities of all users

Tasks
✅
✅
Tasks comments
❌
✅
Assigning tasks
❌
✅
Done tasks

✅

Only the completion status of the account owner's tasks

✅

Completion status of the assigned & own tasks

Seasons
✅
✅
Machinery Module
✅
✅
Sharing Farms/Fields

✅

Only farms/fields without notes, tasks, comments

✅

Farms/fields with all information

Annual vs. monthly plan
Available billing periods may vary depending on regions.
If you decide on a SKYFLD Pro subscription, you can be billed annually or monthly. Billing cycles do not affect the features' availability. They only affect the price and the frequency of payments.
If you select the annual plan, you will be charged the entire yearly amount after you add a payment method. One-time payment covers the cost of a year of the service. The next payment will be scheduled for a year unless you cancel.
If you select the monthly plan, you will be charged each month. Shorter billing cycles may be more convenient if you want to use the SKYFLD Pro features only for several months.

We do not refund the payment in case of an early cancelation.

Why choose the SKYFLD Pro Plan?
Effective communication in farm management is a key factor contributing to a farmer's success. SKYFLD Pro Plan allows you to delegate tasks, discuss the process, set deadlines and check the completion date. With SKYFLD Pro, you can easily plan all field works.


Keep the discussion in one app. You can comment on scouting notes and tasks added by your coworkers. Upload and browse photos and attachments in one thread connected to the exact area/spot on your field. By keeping all documentation and conversations in one place, you can easily go back to the arrangements whenever you need.


Create variable rate maps adjusted to the working width of your machinery. On the SKYFLD Pro plan, you can create precise application maps for seeding, fertilisation, and crop protection. Thanks to the product/seeds rates adjusted to each zone of your field, you save resources and water. Take advantage of precision farming and increase your yield!


Soil and yield map upload allows you to compare vitality zones and analyse the data to create the best strategies for your fields. You can also use them as a base for variable rate maps.


The weather panel available on the SKYFLD Pro Plan consists of 4 tabs: today's hourly forecast, 7-day detailed forecast, weather history, and rain gauge. You get information for each one of your fields for maximum precision.


Be ready to grow! On the SKYFLD Pro Plan, you can increase the hectare limit and expand your farms.

Why choose the SKYFLD Basic Plan?
SKYFLD Basic Plan offers all essential features for farm management. You can

create farms and fields and monitor vitality changes.



If you are taking your

first steps in digital farming

and want to access essential insights about your fields, the Basic Plan may be a great solution! You can compare biomass maps,

integrate SKYFLD with the CropX account

, manage seasons, and use

Plant Health Check by Plantix for disease recognition

.



Basic Plan allows adding notes and tasks visible only to creators.


Take as much time as you need to learn and introduce precision farming to your farm.

You can always upgrade to SKYFLD Pro!