🌟 The availability of features depends on your subscription plan.
If you are on the SKYFLD Basic Plan, you don't have access to CropX disease recognition. Learn more about the benefits of the SKYFLD Pro Plan.
You don't have to install sensors to get the predictions of disease possibility on your fields! Disease risk assessment and insights are available for all SKYFLD Pro users. However, installing a sensor increases the accuracy of the prognosis.
List of supported Crops
CropX provides insights about disease risk for the following crops:
Cereals
Grain Maize
Late Corn
Maize Biogas
Maize Silage
Winter Wheat [Nabim Group 1]
Winter Wheat [Nabim Group 2]
Winter Wheat [Nabim Group 3]
Winter Wheat [Nabim Group 4]
Fruit
Grapefruit
Apples
Cocoa
Plums
Papaya
Nuts & Trees

Oilseeds
Linseed
Oilseed Rape
Sunflower
Pasture/Grassland
Forage rapessed
Ryegrass
Alfalfa
Pasture
Millet (Forragem)
Sorgo (Forrgem)
Pulses
Chickpeas
Combining Peas
Edible Podded Pea
Lentil
Soy bean 2nd crop
Soybean
Vining Peas
Winter Beans
Soft fruit
Speciality
Sugars
Vegetables
Asparagus
Baby Leaf
Bell Pepper
Broccoli
Brussel Sprout
Cabbage
Carrots
Cauliflower
Celeriac
Celery
Chicory
Leeks
Lettuce
Onion
Parsley
Spinach
Spring Onion
Sweetcorn
Tomato
White beans
Disease recognition results in the field details
1. Go to the field details - click the field on the map or select it from the fields list.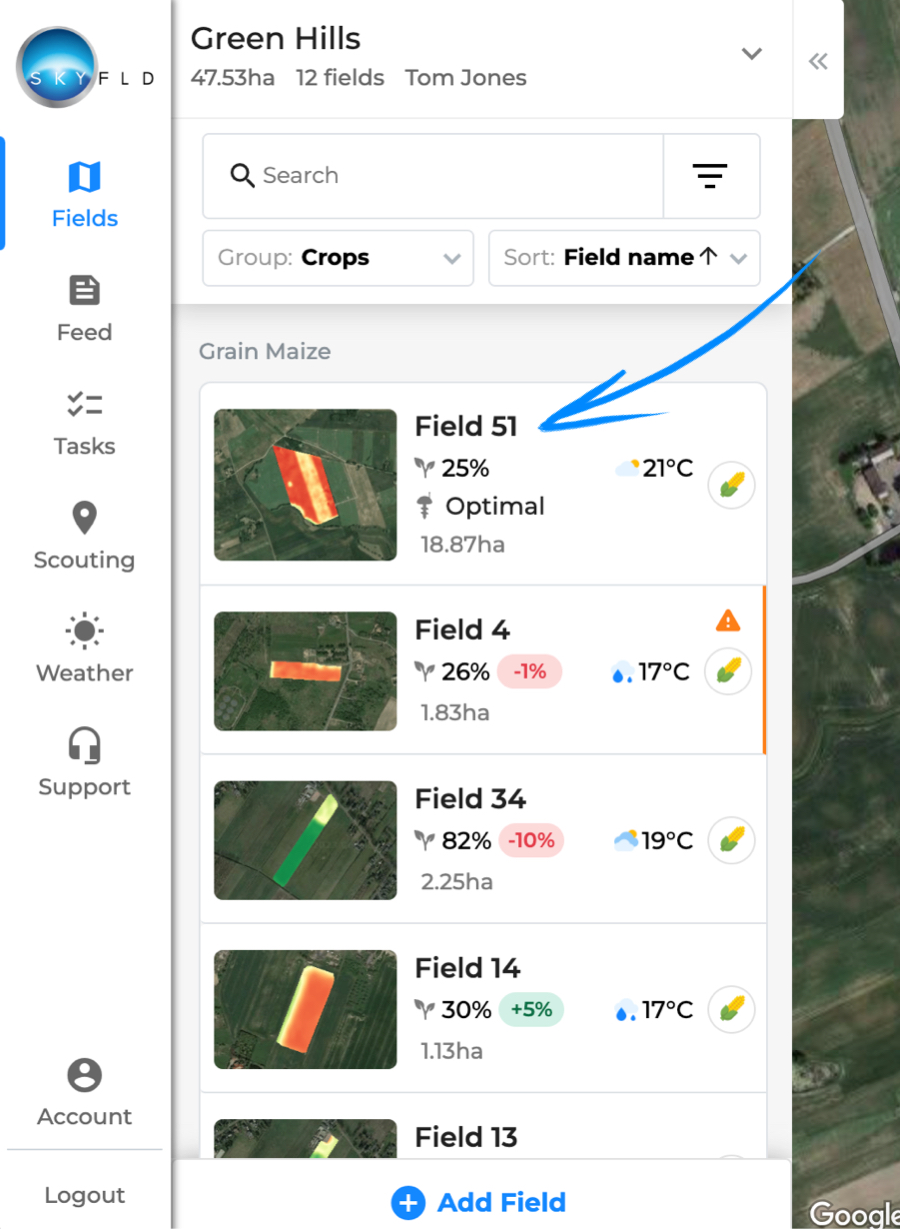 2. Scroll down to the Disease risk section.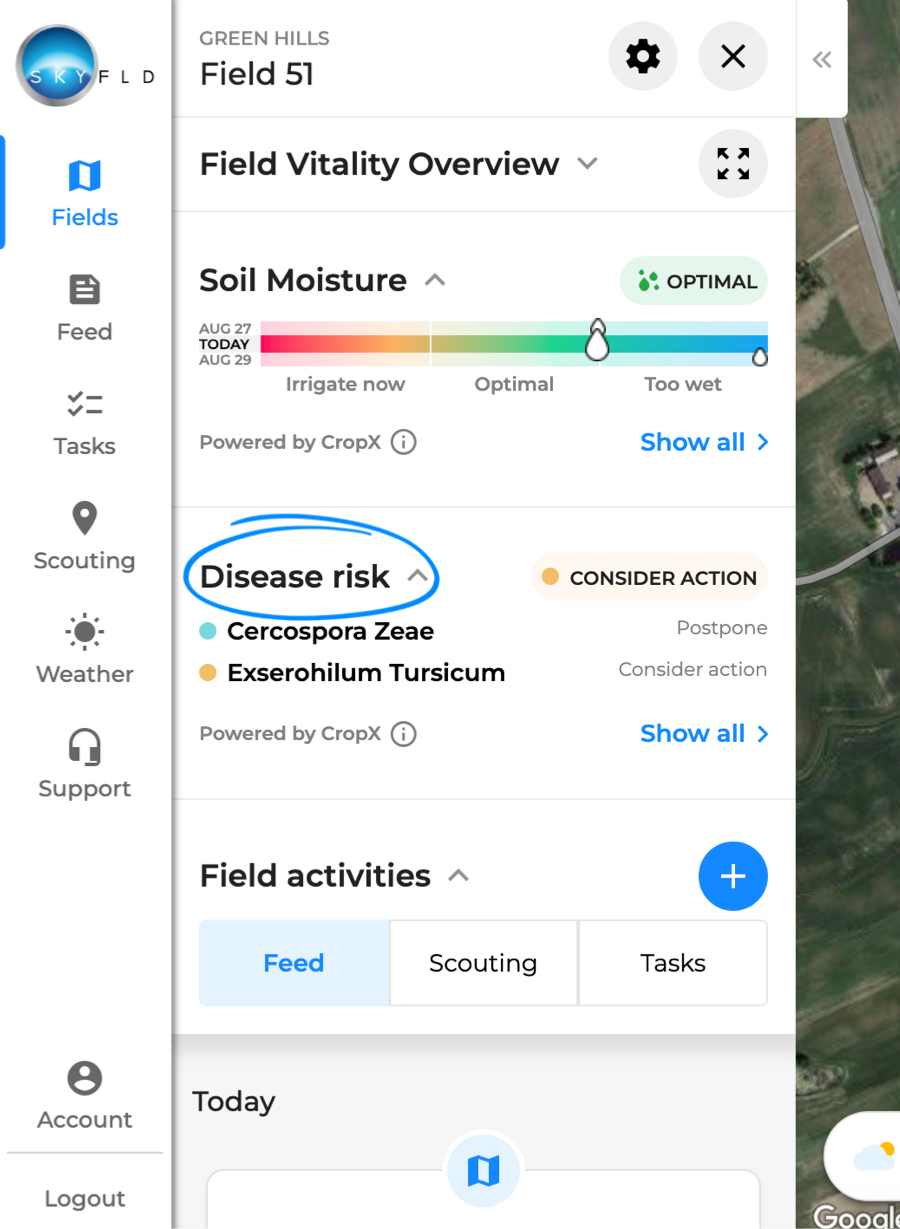 In the summarized view, you may see different statuses at the top of the section:

Immediate action

Consider action

Postpone

All good
The main status always reflects the most severe infection risk. For example, if a given crop may be infected by 4 different diseases and the risk for 3 of them is low and high for one, we will display Immediate action status so you don't overlook the risk caused by that one disease.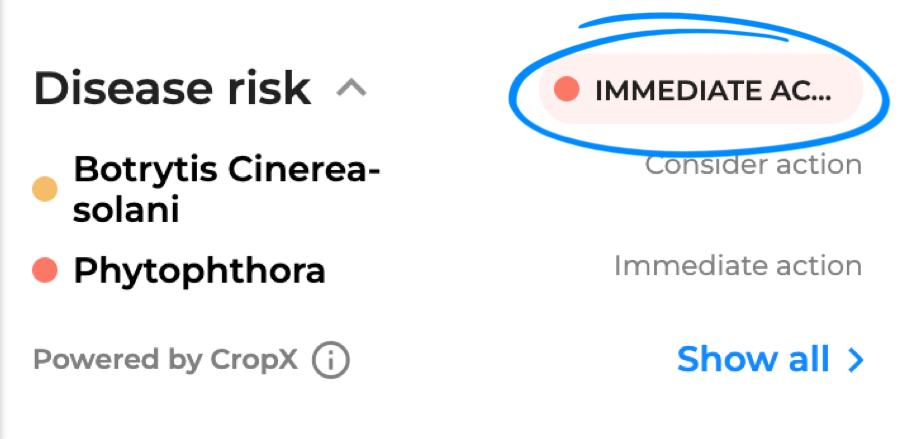 If the risk of all possible infections is low, we display the All good status. Even in such cases, you can access the details and analyse the infection risk graphs.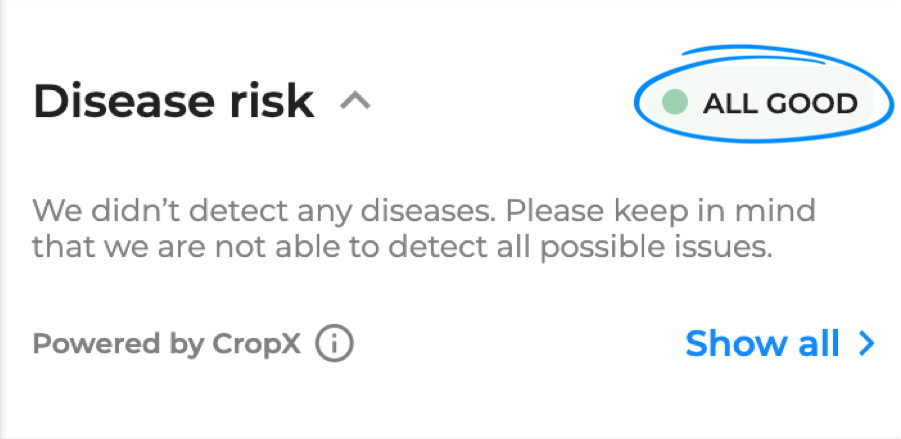 3. Click Show all to open the detailed view with the graph.
4. On the graph, you can see the infection chance. It shows the range of 8 days marking the high and low risk. Above, you can check the descriptive insights that might help you understand the conditions of your crops and take action.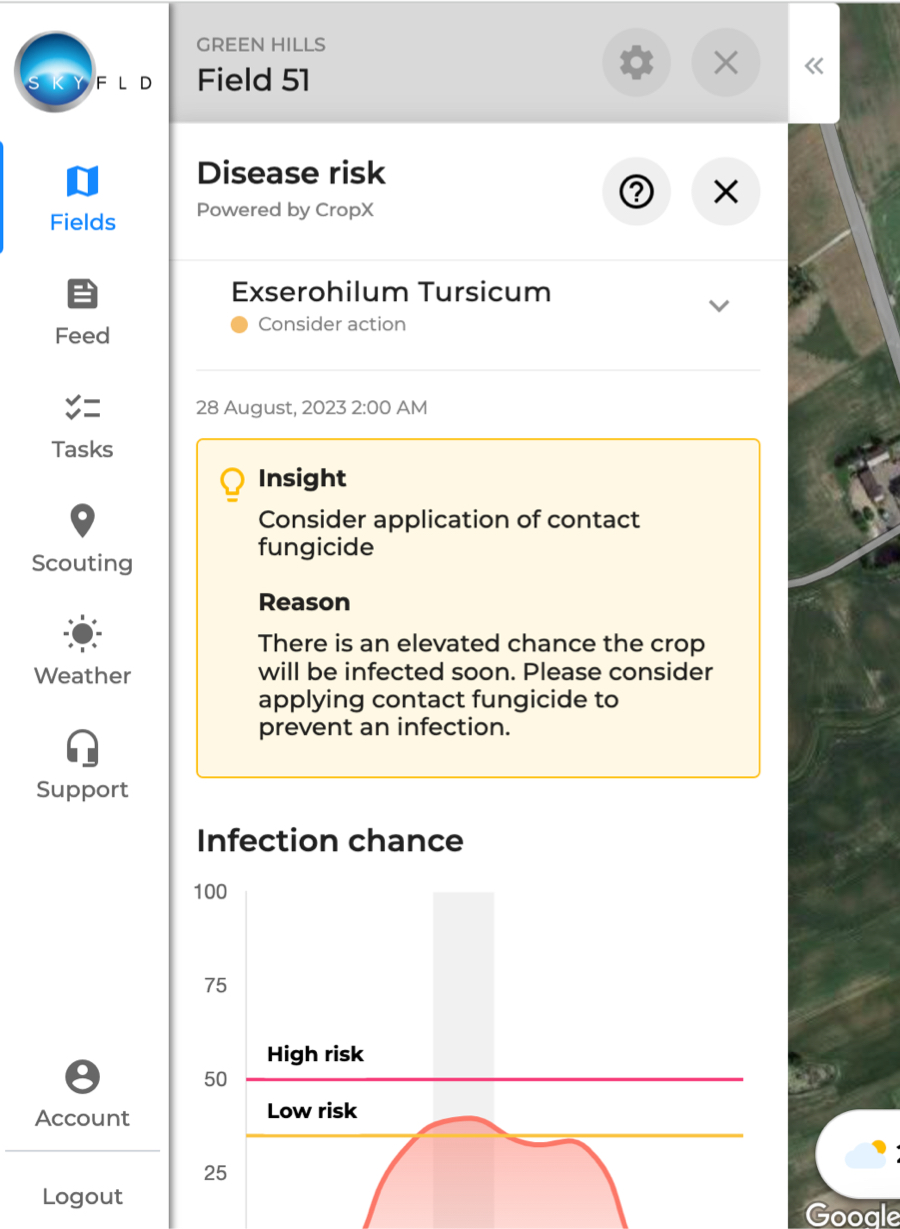 5. Click the arrow icon

next to the disease name at the top of the section. The drop-down list opens with other possible diseases. Click the selected disease name to display the graph.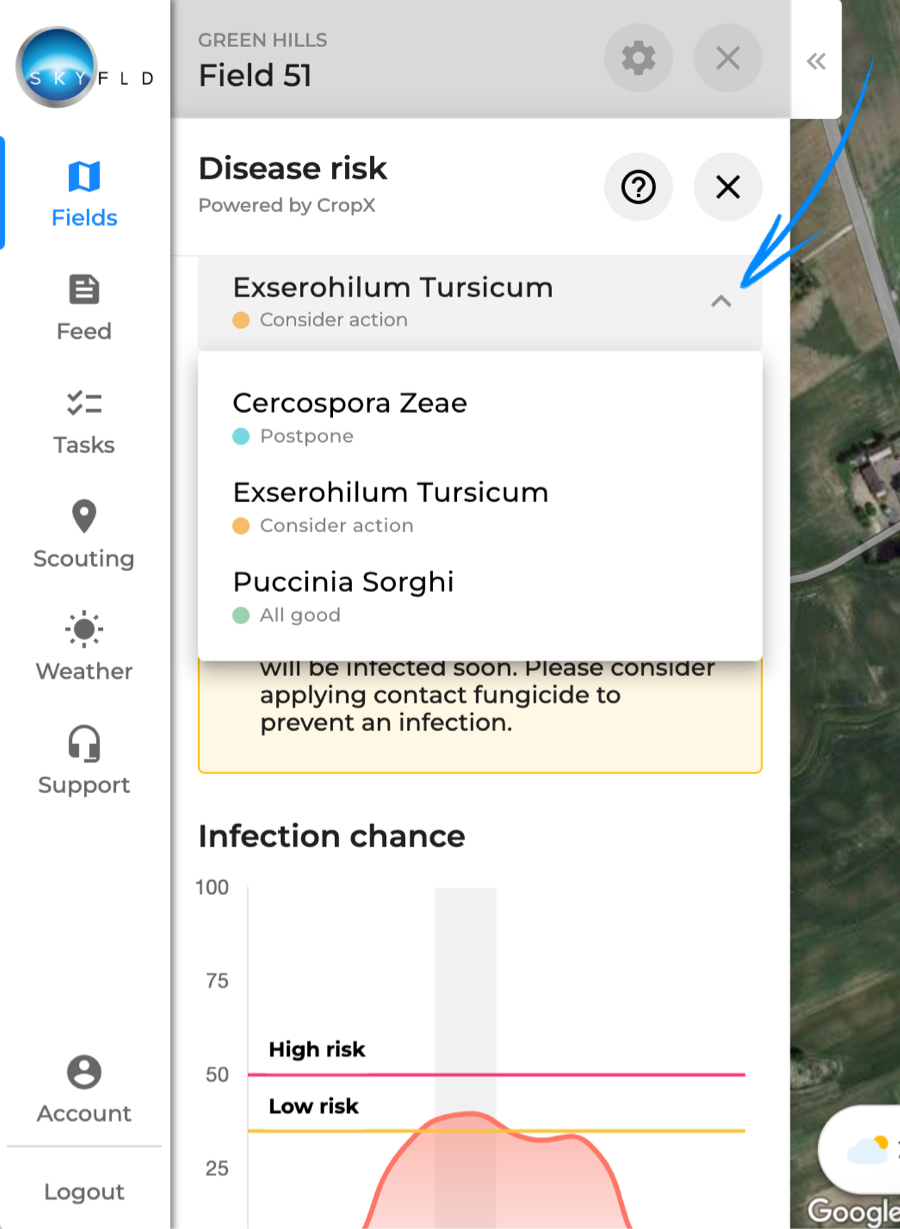 As you can see in the example below, for the diseases with All good status, you can analyse the past and future risks.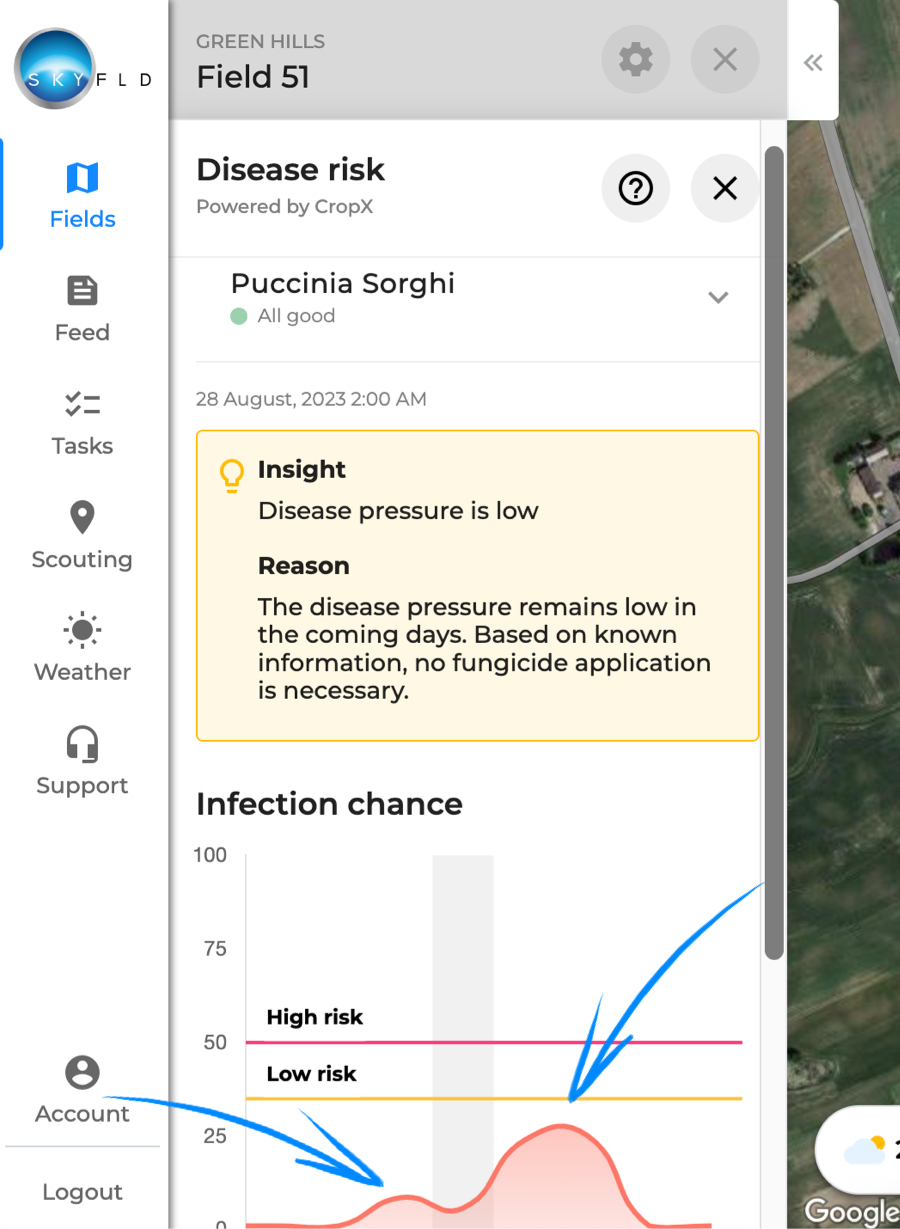 If you want to confirm the results, upload photos of your crops to the scouting notes and let AI detect diseases! Plant Health Check by Plantix automatically detects possible risks, nutrient deficiency, and pests. You can upload photos directly from your field using the SKYFLD APP.